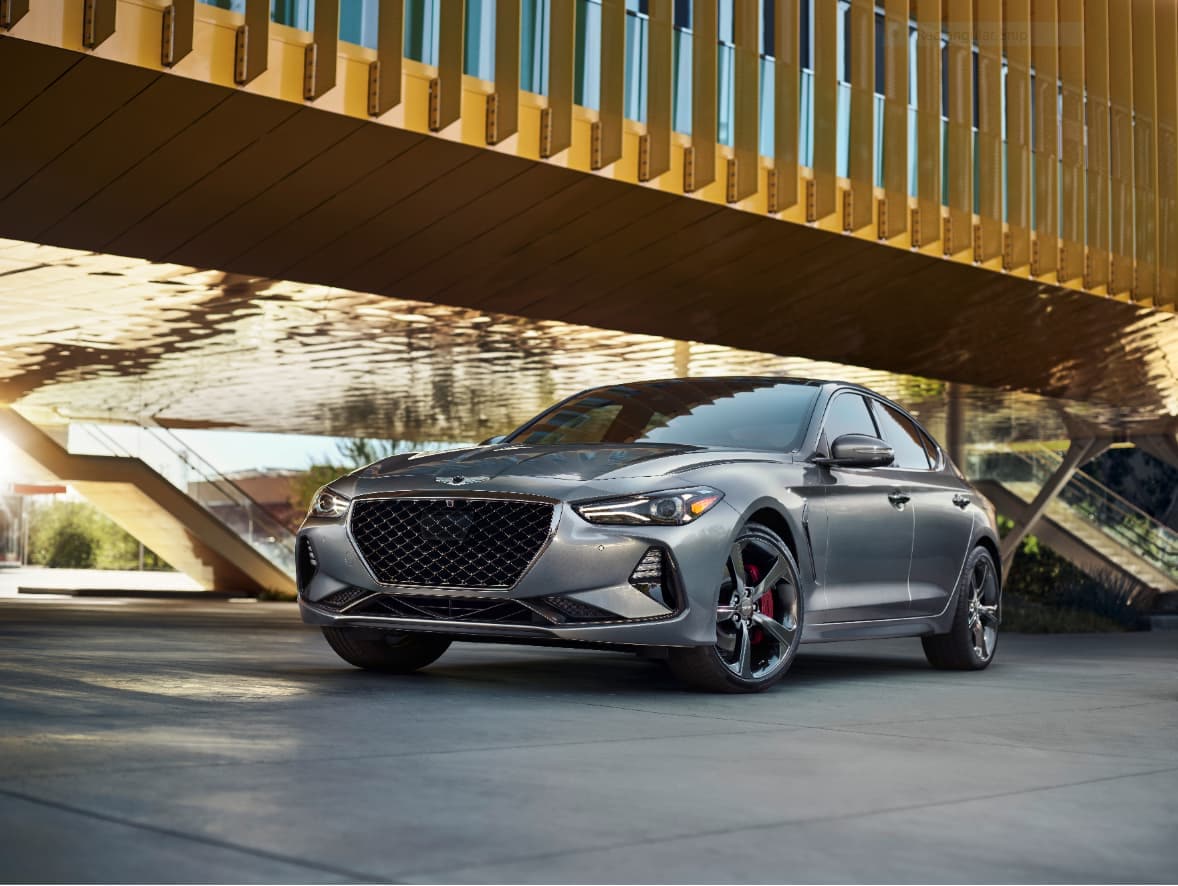 Genesis G70 Near West Palm Beach, FL
New from the ground up, the Genesis G70 is the new luxury sedan from the South Korean automotive brand, and it's the most sporty Genesis to date. You can shop new Genesis G70 inventory online now at Genesis of West Palm Beach.
Perfectly sized for a young executive, or someone moving up the corporate ladder, the new G70 takes aim for the driving enthusiast who wants it all: Luxury and performance in a singular intimate package. In the process of introducing the G70 to market, its introduction brings it to a whole new group of potential buyers from competing brands, who in the past might have looked beyond the Genesis badge.
Genesis G70 Design
Engineered for many possibilities, the Genesis G70 has seemingly been designed for three different buyers. The first of these would be the entry-level buyer. They are looking for a balance between good performance and good mileage, plus the out of the box handling that comes with the 2.0-liter turbo four-cylinder equipped G70. Second would be the driver who thinks getting there is half the fun. They will also likely buy the 2.0-liter turbo four, but this time opting for the six-speed manual transmission with available sport package that adds on suspension and brake upgrades. Finally will be the ultimate enthusiast G70 with the 3.3-liter twin-turbocharged V6 that mysteriously disappeared from the Kia Stinger parts bin. Napleton's West Palm Beach Genesis has the right car for each buyer.
There's enough here to satisfy the most demanding enthusiast driver.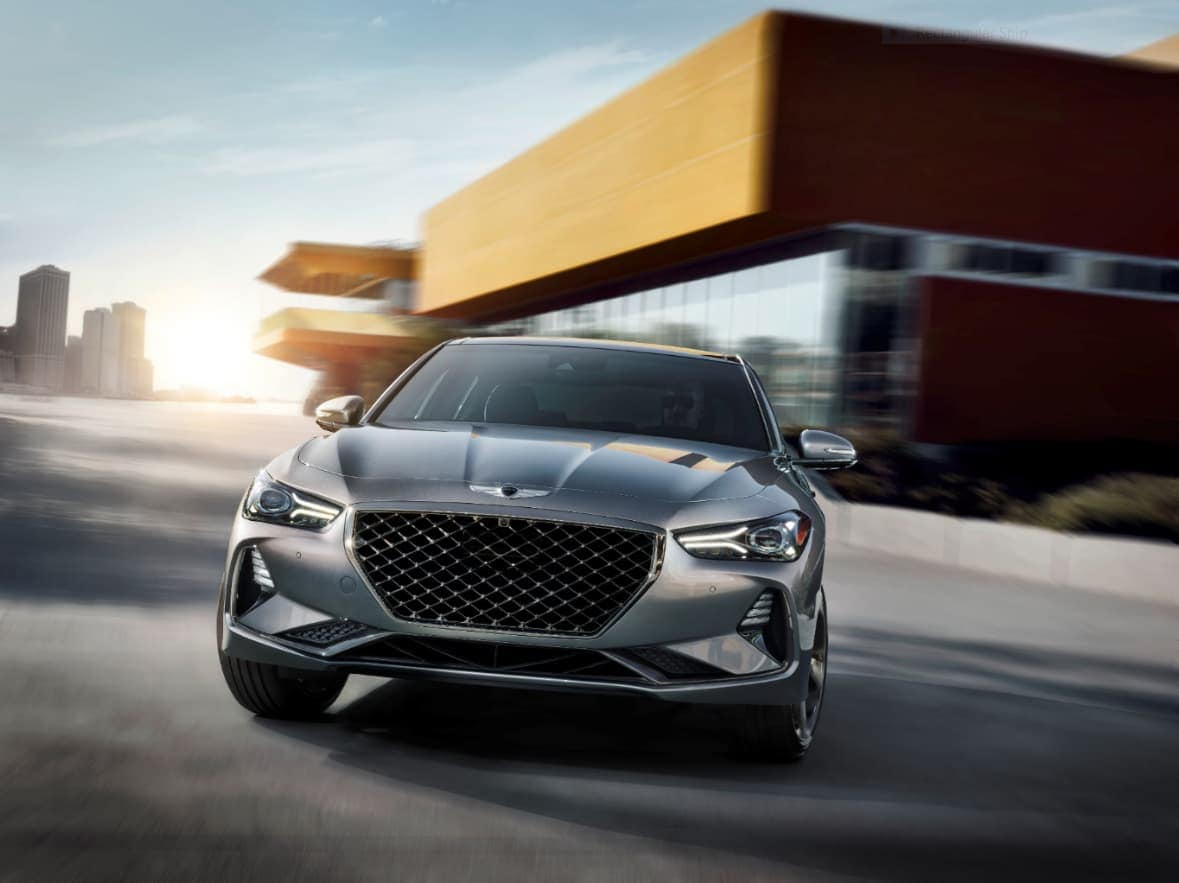 Genesis G70 Performance
Power for the G70 comes from two powerplants: The 2.0-liter turbocharged four-cylinder engine producing 252 horsepower and 260 lb-ft of torque to the rear or all four wheels (AWD). The other choice is the more powerful twin-turbocharged 3.3-liter V6 that has been stolen directly from its Kia Stinger cousin. Producing 365-horsepower and 376 lb-ft of torque, it can achieve 0-60 mph in 4.5 seconds. Both are equipped with eight-speed automatic transmissions, complete with paddle shift levers, although the 2.0T can be equipped with a smooth shifting six-speed manual transmission. Both engine choices can be ordered with either rear or all-wheel-drive. Consult with your Napleton Genesis of West Palm Beach sales consultant for options and availability.
Although we haven't driven it in this form, the 2.0T is also available with a Sport package option that includes a beefed-up suspension, Brembo brakes, a limited-slip differential and an available six-speed manual gearbox that includes a small but effective kick in the pants, boosting the ponies from 252-hp to 255-hp.
All automatic transmission-equipped G70 models include launch control for quick starts without any anchoring from the traction control system, and even goes further with a drift mode that allows a furiously fast aficionado to partake in some exuberant tail-wagging. "Drift on" is how we live our life, one mph at a time. This is quite unfortunate because we suspect that most Genesis owners will not be drifting about on their way to the local warehouse superstore.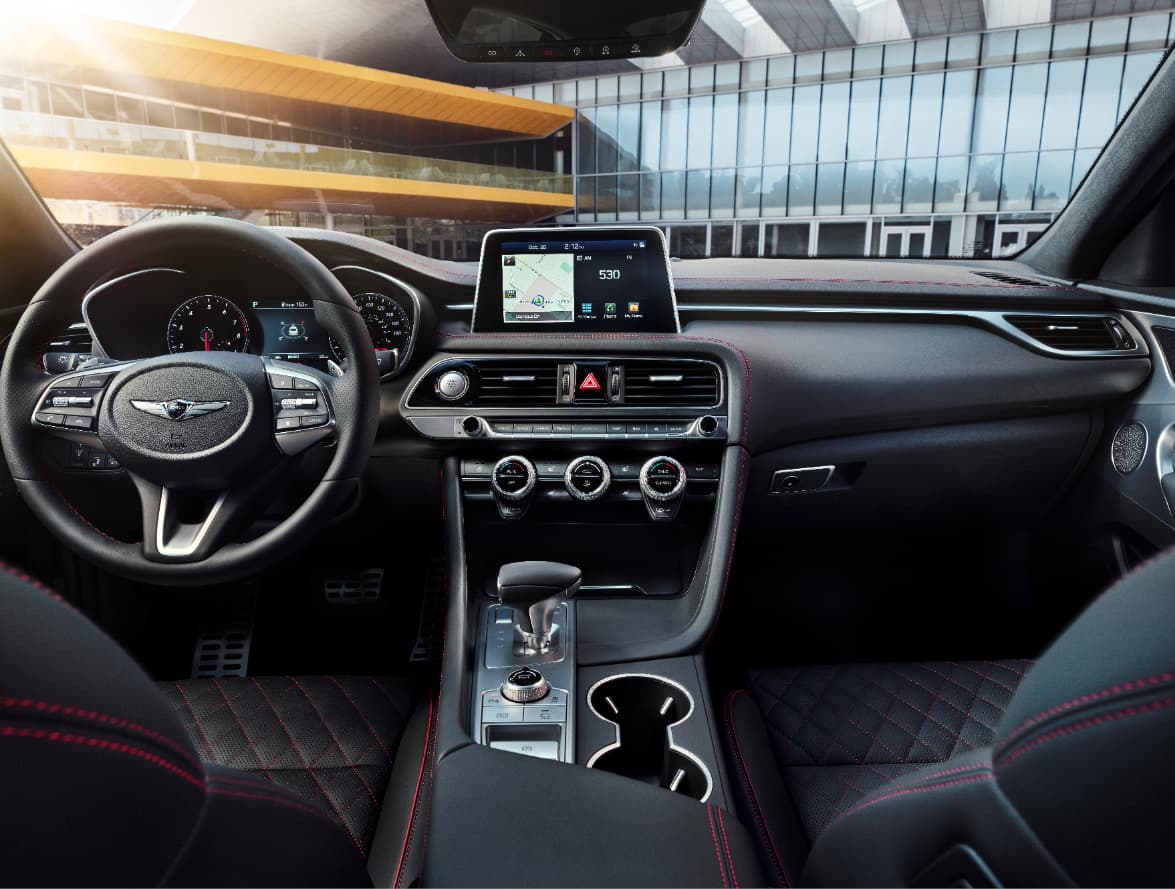 Genesis G70 Interior
Inside the G70, designers have festooned it with leather seats that are both ventilated and heated in the front row, complete with quilted and perforated seating surfaces that would leave some ultra-luxury British sedans and coupes rather jealous. It completes the sporty appearances of the G70 overall, clearly showing it belongs in the luxury ranks. Although it may not have the latest in-cabin gadgetry as seen in its direct competitors, the surrounding materials are of extremely high quality, and should offer years of reliable and very stylish service.
The overall interior design is a touch conservative but will never set you wrong. Controls all line up perfectly and do not require an excessive reach to achieve your goal of pressing a button while in Apple CarPlay mode or adjusting the automatic climate control system. The adjustable steering wheel allows drivers of many shapes and sizes to find the proper seating position. The added feature of steering wheel-mounted paddle shifters let you pretend you are Formula 1 champion driver Lewis Hamilton, even if you are just heading to the local supermarket to get ingredients for dinner.
The G70 is climatized via a standard dual-zone automatic climate control system. Also along for the ride is an eight-inch display that features Apple CarPlay and Android Auto. The two-toned dash is appropriate for the more conservative appearance of the Genesis, although we do appreciate the addition of the Lexicon Premium audio system with Clari-Fi from Harman which helps to restore the sound that was lost during digital compression.
Shop New Genesis G70
The G70 is the result of some wheeling and dealing on the part of Genesis and its Hyundai parent company. The price was right when they went knocking on the door of several legendary German auto engineers including Albert Biermann from BMW M, and Luc Donckerwolke formerly of Volkswagen Group, to head the performance efforts at Genesis, Hyundai and Kia. There's more coming so keep your eyes on the Genesis brand.
As for their G70 efforts, the results are mind-blowing. Here is a pair of sedans from a brand that was known for providing reliable transportation with little in the way of frills that derived passion from its owners. Instead, we have the start of a cult classic that are quite capable, offering handling that keeps up with its competitors, and in the case of the G70 with the 3.3-liter twin turbo V6, the ability to tick off 4.5 seconds in the time it takes to go from zero to 60 mph.
And just in case you might be thinking it, let us jump in here to tell you the 2.0-liter turbocharged is no slouch either. Offering plenty of oomph, it gets off the line well, and displays fine road manners from the electrically-assisted rack-mounted steering system, and the lighter weight over the front axles. There's no digging in from this front end.
Genesis has no history, which works in its favor, actually. They don't have any laurels to rest on so they are free to blaze their own trail in the process. There are no Lemans trophy on their mantelpiece nor are there any grand prix trophies from anywhere else. But that just happens to work out fine as it allows Genesis owners to make some history of their own. Get in, and go, we say.
The Genesis G70 is now available for purchase or lease at Napleton's West Palm Beach Genesis. 
Inquire About The Genesis G70
* Indicates a required field
Hours
Monday

9:00am - 9:00pm

Tuesday

9:00am - 9:00pm

Wednesday

9:00am - 9:00pm

Thursday

9:00am - 9:00pm

Friday

9:00am - 9:00pm

Saturday

9:00am - 7:00pm

Sunday

11:00am - 6:00pm
G70 FAQ:
The Genesis G70 is part of the Genesis model lineup.  The Genesis brand is the luxury vehicle division of Hyundai.
Yes, the Genesis G70 is a luxury sedan.
Yes, the Genesis G70 is a high quality luxury sedan. It's equipped with an abundance of safety features,  driver assistance features, and its agile handling is worthy of a premium sports sedan. Fill out the form above to schedule a test drive and see for yourself. 
No. The Genesis G70 is a compact 4-door luxury sedan sports car, while the Genesis GV70 is a 4-door luxury SUV.
It is highly recommended that you use Premium Unleaded fuel for the Genesis G70.
Yes, the Genesis G70 is capable of producing 365 horsepower and 376 lb-ft of torque, while going 0-60 in ~4.5 seconds. These numbers are achieved via the Genesis G70's available twin-turbocharged 3.3L V6 engine.